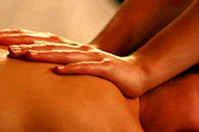 Using her tactile skills in working with clay, Kathleen finds herself "sculpting" your body back to the way it likes to be, before stress, tension, pain and the effects of gravity. Kathleen's extensive experience in massage/bodywork, Swedish and Chinese massage, reflexology, polarity, deep-tissue massage, acupressure, Shiatsu, and CranioSacral techniques are integrated and woven into her signature Deep Tissue MicroRelease bodywork.
There is no denying the power of bodywork. Massage therapy can be a powerful ally in your health care regimen. Research continues to show the enormous benefits of touch for treating many acute and chronic conditions, injuries and neurological disorders, and for alleviating the stress of our modern lifestyles. And it just feels good!
Kathleen brings thirty years of bodywork skills and intuition to assist you in unwinding stored physical and emotional trauma from injuries, accidents, repetitive motion tasks . . . and just plain life. Clients often report an increased sense of whole body relaxation and clarity after a massage. The emotional balance provided by massage and bodywork is often as vital as its more tangible physical benefits.
Massage can do you a world of good. Consider regular self-care massage as an investment in your well being, a necessary part of your health and wellness plan.
Benefits of Massage:
• Reduces tension, stress and pain
• Improves range of motion and
flexibility
• Enhances immunity by stimulating
lymph flow
• Exercises and stretches weak, tight
or atrophied muscles
• Helps athletes of any level
prepare and recover from
strenuous workouts
• Improves condition of the body's
largest organ–the skin
• Enhances mood, lessens depression
and anxiety
• Promotes tissue regeneration,
reduces scar tissues and
stretch marks
• Reduces post-surgery adhesions and
swelling